Following the Yellow Brick Road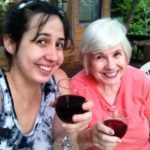 I slid the Goddessmobile down my folk's mountain home driveway in between a concrete gate with barely an inch to spare on either side. There was a huge outdoor lamp with an outlet, as well as a spicket for my hose conveniently within reach.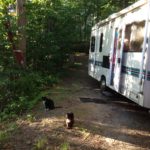 I was a little nervous about how my cats would fair in the deep wilderness of the North Carolina Cherokee Mountains. There were bears, wolves, poisonous snakes, and cats much bigger than my three little kings inhabiting these lush ticketed mountains. My choices were to "control" the situation by locking my companions in like prisoners, thus making them miserable and peeing on my pillows in protest, or to surrender and trust God.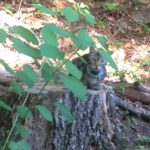 My sister, who I call Heifer, stayed a few days to play with me in the mountains like we did as kids. We rented two tubes for six bucks and floated down the winding bends of Deep Creek. The little deceiving waterfall drops made you flip out of your tube and feel like you were about to drown, but we loved it.
Our next adventure was to Sliding Rock high up on the Blue Ridge Parkway. Sliding Rock is an all natural theme park created by God. Imagine sitting on top of a slick slab of mountain with a river running over it, and sliding down it on your rear slip-n-slide style into a large lagoon below.  It's a blast!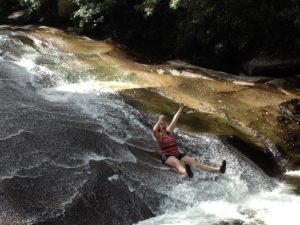 On our way back to the cabin, I managed to talk Heifer into going on an adventure to hunt for wild blueberries I had found years ago down the side of a popular overlook. We wandered down beautiful paths, and though we never found blueberries, we found sacred treasure places of fairy-land beauty.
My family is incredible.
On different occasions, they treated me to shopping adventures to prepare for my tour. Heifer took me to get everything I needed from my Wal-Mart Super Center list, my dad took me to get everything I needed from my Lowe's list, and my mom took me dress shopping to doll me up for my upcoming speaking engagements. These were all things I was planning to eventually get, but I didn't expect my family to be so generous and supportive! They wanted to launch me off with more than what I needed to experience a lavish book tour. I am so blessed.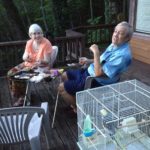 Before my sis left back home for Hotlanta, my parents surprised us with a birthday cake which we both got to blow out and make wishes. My dad broke out his fancy cognac and we sipped our drinks with Hors d'oeuvres while watching the sunset over the river from the back porch. We even brought out George in his birdcage to join us in our simplified luxury.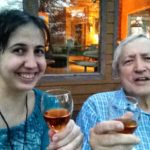 "This is the life," my daddy said.
I admire my dad's genuine presence and appreciation of 'the good life.' It doesn't take much to make him happy, and I am fortunate to have picked up this trait.
"Oh, God, you scared me!" I said as my dad snuck up on me on the ridge the next day. I was hypnotized by the fact that I could literally open up an organic blackberry farm by the hundreds of wild blackberry bushes growing on our mountain ridge.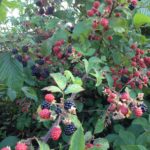 "Oh, you should see what these bushes look like in two weeks. You're only seeing ten percent of what will blossom," my dad said.
I would be gone in two days heading for Kansas, so I picked as many blackberries as I could to make a pie. Now I understand why they cost so much in grocery stores.  My arms looked like a hot mess after being scratched by all of the thorny vines!
"Daddy, I'm going to sell these for way more than in a grocery store. I can't believe these are so cheap when people actually bleed to harvest them!"
With Heifer gone, I was on my own to hike down to the river at the bottom of our mountain home property. I geared up with a backpack full of snacks, a walking stick, and my parents support to come pick me up once I arrived at the river.
I made my journey into the unknown with my Guidance…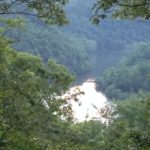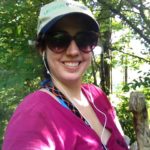 The trail was grown over and wild foliage covered the majority of the path. It didn't take long until I could no longer see the trail and had to guess my way down the mountain. I approached "the thicket" that could swallow me whole, and I hacked my way through it on a mission. "The thicket" is a twenty foot high, fifty foot deep plant wall dense with thorns, poison ivy, chiggers, ticks, stinging flies, bull ants the size of your thumb, and things that rattle, hiss, and make I'm-gonna-eat-you noises. It's typical to fall into holes, get locked up in vines, and have panic attacks while you scramble to get your bearings.
"Angels, please don't let me get bit by a rattle snake. Or die. Thank you for helping me get to the river. Amen," and I chopped my way through the plant monster, high on adrenaline.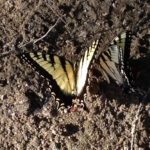 When I heard the sound of the river, I shrieked in gratitude. I approached the big river rock we played on as kids, and butterflies flew up by the dozens in front of my face like a Walt Disney movie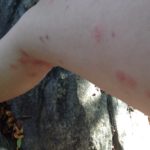 .
"I made it!" I squealed while running up the rock that stretched halfway into the river. For hours, I swam, played, meditated, and texted singing videos to my friends back at home. My legs were eaten up by chiggers and ticks, but I felt beautiful and free.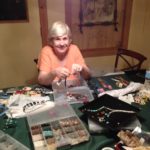 Back at the cabin my mom made an awesome replenishing dinner, and then whipped out her jewelry making supply once we were done eating. I ran to my camper to feed my angels and grab my supply. Tipsy and giggling like two creative free spirits, we made jewelry until the sun came up.
"What do you think?" she said as she proudly showcased her sixth necklace.
"Holy smokes, you're getting better mom!"
It's true. The more you practice anything, the better you get. Repetition breeds mastery.
My folks did their notorious "hi-five" as if they finally got rid of me while I drove my camper out of the driveway. I laughed and waved to them in my rearview mirror that was falling down.
I was on my way to once again teach at Atlantis and stay at the Davy Crockett Birthplace State Park. I was thrilled to see my old friends at both places.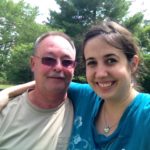 "Jai Maa! You're back!" Reny said as I pulled into a spot at Davy Crockett.  Reny was an earth angel protector for me on my last tour, and someone who cares about my safety and wellbeing. He noticed that my hose was leaking and gave me one of his brand new hoses. He helped me get parked and set up in the dark with his flashlight, all the while cheerful that I had returned.
Rev. Edward, his wife Alisha, and his assistant, William, picked me up the next day for my first event at Atlantis, "Meet the Author." While speaking with customers browsing the store, I learned that there was a crystal skull event happening throughout the weekend that seemed to have a lot of hype.
While getting dressed and waiting for my ride the next evening, my Guidance popped in to let me know that my threshold workshop wouldn't happen, but not to be discouraged.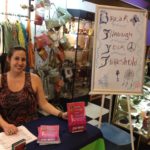 "I won't be. I'm happy to put on a beautiful dress and show up anyway," I said back to them.
And they were right. No one showed up for my workshop.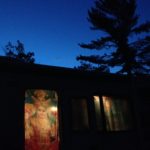 The old me would have felt as if I did something wrong to manifest a zero turnout. But I didn't. Instead, I felt sad that people were attracted to an object they believed had magical powers. I truly believe that ascension work (like the Break Through Your Threshold experience) supports one to feel empowered in their own magic, verses relying on magic outside of oneself.
The evening unfolded benevolently. I got to share a few of my healing gifts with Rev. Edward and afterward, we went out for dinner at a local hot spot.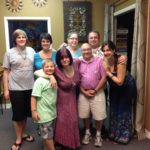 The next day, I facilitated a Breathwork workshop. As everyone began breathing, I noticed that the participants were made up of all men and only one female! Now, this was amazing to me, because it is not common for men to be drawn to a workshop that encourages intense emotional release.
"Thank you, God, for trusting me to facilitate the healing of these men. I am honored to be doing this work," I prayed while moving around the room offering energy work to the participants.
After the workshop, the men shared their experiences. One was in complete awe and said he didn't know how to put into words what happened. Another older gentleman said that this was the first time in his entire life that he had ever screamed. I was grateful to be a part of their unique processes and hold space for the healing of the Masculine Divine.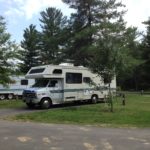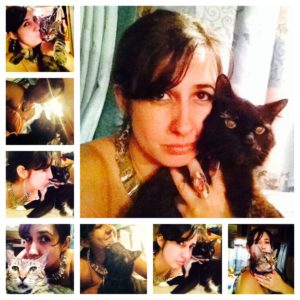 The last workshop I facilitated at Atlantis was the Conscious Communication Course. Ah-ha's went off like light bulbs and transformational tears were shed. For five hours, we practiced empathic listening skills and assertiveness training. I managed to squeeze in a few private hypnotherapy sessions before packing up the Goddessmobile and continuing my journey out west. Reny helped me unplug my RV and wished me well.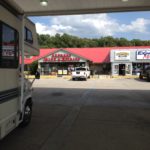 The drive to Kansas would take two days, so I stopped in Kentucky for the night. I found a gas station that had a beer bar inside and was adjacent to a liquor store. I had never heard of such a thing! A bar inside a gas station??? What a trip! I gassed up, grabbed a bottle of Zinfandel, and continued my journey to the Duck Creek RV Park in Kentucky.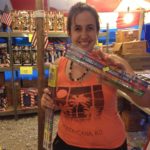 Along the way, I pulled over to grab a few sparklers and fun explosives for the Fourth of July happening in just a few days. I knew I'd be arriving at The Light Center in Kansas with a handful of guests from South Africa as well as teens from IYOU (International Youth of Unity) from Missouri and Texas. I wasn't sure if we could blow things up in the middle of corn fields in Kansas, but in the case that we could, I had more than enough to share with the teens.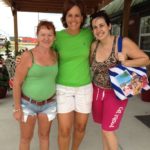 I pulled into the Duck Creek RV Park after midnight and thankfully, there was a fiery red-head named Karen who got me settled in. The next morning, I spent hours talking with Karen and the owner, Dana, about all kinds of interesting things. They told me that one of the biggest quilting events in the U.S. takes place in their little Kentucky town, and their RV Park is overflowing with quilting artists from all over. I gave them each a copy of Break Through Your Threshold and put a copy in their guest lending library before I left.
Continuing down the yellow brick road to Kansas, I felt so crappy from a hangover (which I hardly ever get), that I decided I was done with alcohol. It was time to shine, and I didn't want to be weighed down by anything, even the blood of Christ.
"What in the world is that?" I said out loud to my cats and Guidance. There was a huge light in the sky too high to be a tower and too low to be a star. It wasn't blinking or moving, so it wasn't a plane. What in the world was this UFO-looking thing? It wasn't until later that I learned I was driving to The Light Center under the Bethlehem Star.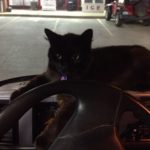 I was out of money and almost out of gas as I drove down winding gravel roads in between corn fields and no gas station for twenty miles. Everyone at The Light Center had gone to bed, as they were on farmer-time and I was on my typical night-owl schedule. I surrendered to the thought that in case my GPS didn't get me to my destination before running out of gas, I could sleep on the side of a dirt road next to a creepy corn field. I did have my shotgun, so I was ready for whatever.
I howled like a wolf under the full moon when I saw the charming little white iron sign with sunflowers that said "The Light Center."
"We made it!" I cried to my wining cats. We were shot-out and ready for night-night. Sticky and desperately needing a shower, I crawled into bed with a mushy brain and smiled. I couldn't believe I was actually here.