Homeward Bound: A Successful First Tour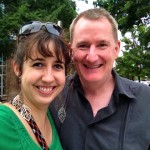 We drove into a charming, quiet suburban road like rednecks on a mission. My friend and host of my Greenville, South Carolina living room workshop, Brian Jourdan, led us up a black iron banister-stairway and into his quiet, yet elegant country home. Since we still had over an hour before guests would begin to arrive, we piled into cars and went out for a bite to eat at a healthy, local restaurant. After lunch, Marie left early to the Lake Lanier guest house and the rest of us created breakthrough magic in Brian's living room.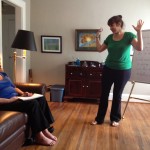 I am always amazed at who is attracted to attend the Break Through Your Threshold experience. The quality of the conversations and visions that are created in my workshops humble me. Our world is full of beautiful heart desires that could allow Heaven back on Earth gracefully, if we set ourselves free from the make-believe boxes we think confine and define us.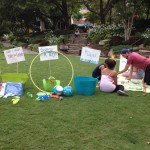 Afterward, Brian took us out for the evening to experience the art and class of downtown Greenville, South Carolina. After indulging in sushi, we strolled around the busy, clean streets taking in the vibe of the culture. There were a group of young adults who were playing on the well-manicured grass with baskets labeled:
Have a need? Take or Leave
Borrow a Toy
Free Water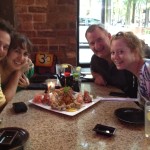 Greenville felt like a place I could call home. I couldn't help but wonder how many more beautiful cities are tucked away on our gorgeous planet and awaiting me to discover. I had been grounded in Gainesville, Florida for over ten years. Now I was grounding myself in flight, expanding what I considered to be "home" and seeing our planet as a place of splendor that I am blessed to wander.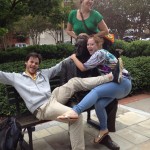 Brian led us over a bridge that was built a few years ago by an artistic architect. There was something about the powerful muddy river that thundered under the pristine bridge walkway that mirrored how I felt inside. I was on the first excursion of a life long adventure and knew that there was no turning back. I want to live an extraordinary life. And that means conquering fear, and committing to the effort necessary to enlighten beyond a mundane existence.
My realizations didn't make my life easier or more comfortable. On the contrary, it seems more painful to be aware of how much I leak my energy, settle and compromise, hide and play small, and resign to excessive drinking to check out from the overwhelm of responsibility. I was processing a lot on this trip and knew I had a lot of regrouping when I got home. As much fun as I was making out of my experience, I was looking forward to be back in Florida by myself on the river again.
After our fabulous evening with my friend, Brian, I took in a big sigh at the drive still ahead. It was already late in the evening and we still had another three hours to our next destination. Janna and Olivier's high spirits kept me energized, laughing and playing like the sound of freedom. The Goddessmobile felt like a fort on wheels with three big kids and three cats, traveling on our very own treasure hunt adventure.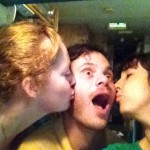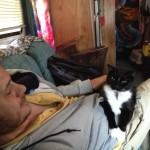 We wanted to make a 'quick stop' at Walmart to grab a few things before heading off into the woods of Georgia.
Quick stop my ass.
Trying to find a Walmart was like trying to find God in the heart of an atheist. Siri (my little I-Phone robot friend who helpfully speaks the GPS directions out loud) kept driving us around the interstates in circles. I wanted to shoot myself.
"Oh, we are supposed to go the other way," Janna said for the umpteenth time.
"We're in an RV, Siri, it's not like turning around a car!" I yelled along with a few extra decorative cuss words to convey my distress.
"I'm sorry about this, but I can't take any requests right now. Please try again later," Siri said and then we were really lost. I backed up into someone's driveway down some random dark road to turn around. By the time we found a Walmart almost two hours later and in the opposite direction of where we were headed, I was ready to crash in the parking lot with a bottle of wine and call it a night.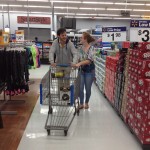 Giving Olivier his first experience in Walmart was a reality show worth filming. Janna guided him around and pointed out different things like an enthusiastic tour guide from Walt Disney World. People were looking at us like we had escaped from a loony bin. Nope. Just two chicks from Polk County, Florida and a French man getting lost in an RV adventure with three screaming cats…enough to make anyone crazy.
I questioned my sanity making the rest of the drive to the lake house in Georgia over three hours away. I needed to make a stop at my bank and pulled right up to the teller ATM with an inch between my RV and the roof. Delirious and wired on adrenalin, we were having the most fun possible just to stay awake. I would have given anything for a Starbucks, but the one we pulled up to was closed. I prayed like hell that we would arrive at our destination safely.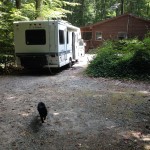 I deserve an award for making it down the impossible, narrow, winding dirt road obstacle course at 5:00am without getting any of us killed. I was so tired I was starting to see shadow people in my peripheral vision, but still managed to not drive over the cliff-like edges on the way to the tucked-way lake house.
After a few nights at the lake house, Olivier left with Marie back to Florida and Janna and I returned to our first stop at Shady Groove Camp Ground. Being night owls and once again, on very little sleep, we only had minutes before we needed to be moved from the lake house driveway.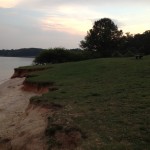 "Xinky! Xinky! I can't find my cat!"
Of course this would be the time my cat decides to dip out and make it impossible to find him. Janna finally discovered him sitting in the nearby tall grass with his arms crossed, posed as if he was king of the mountain watching us dumb little minions scramble around.
Since the driveway was narrower than a Bible-thumper's pathway to God, it was impossible to turn Baby Bella the Goddessmobile around without falling off a cliff. Janna guided me as I backed up like a champ and then we were off to our next stop which was supposedly only ten minutes away. We plugged in the address to the GPS and would you believe that there are two exact addresses that both lead to RV Parks opposite side each other on Lake Lanier?
Really Georgia???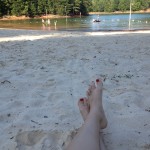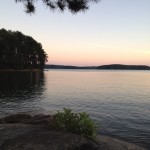 We drove forty-five minutes to the wrong RV Park! I was having another one of those I-want-to-shoot-myself moments. After driving to the other side of the lake, we plugged in to our original spot at Shady Grove and relaxed for the rest of the day. I only had two more workshops and then I would be homeward bound to Florida.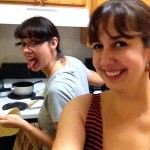 My sister, who I call Heifer, came and picked us up one evening for dinner and wine. We have all known each other since birth and danced around the house singing songs from Mariah Carey like three childhood friends.
Heifer drove us to the Phoenix and Dragon Book Store for my Break Through Your Threshold workshop the next day. We were moved to a separate building away from the store after an employee complained that my workshop would "disturb his sessions" in the room next to where I was instructed to teach. I didn't understand what the big deal was, I was on the store's calendar for over a month. The owner who booked me wasn't there and this employee seemed so unhappy that I was teaching in the room next to him that it wasn't worth creating more tension. So, we surrendered to the flow.
We were led across the parking lot to a building where no one would see us, so we improvised and trusted that God would bring the right people to the Break Through Your Threshold experience. Janna went back over to the store and invited people who were shopping while I set up across the street. She came back with a few people who didn't know about my workshop and though we were a small group, the quality of the conversation and the heart desires expressed in the room were immense. I couldn't help but again be in wonder at the awesomeness of God.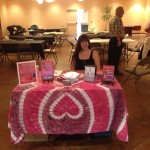 The next day, I taught at Atlanta Unity Church, a church that has a congregation of about four hundred people. The minister forgot to mention my workshop during the announcements, even though he had met me moments earlier. After the service I taught to three people, including Janna. The kind and accommodating staff member who had booked me at the church tried to reassure me that this particular group was 'not into workshops.'
But I knew differently.
I felt energetically depleted from the trip. I knew that how I felt about myself manifested my results, and the mirror of reality never lies.
I also knew that this was my first go-around. I was just getting out into the big, vast world to share my gifts. It was only a matter of time, trust, patience, diligence, and giving the best I could at every moment that would eventually create a snowball of success. I was a baby on this journey and just learning to crawl. As long as I didn't give up, I would one day become a walking toddler, a running child, a risk-taking teenager, a responsible adult, and, eventually, a wise sage in my adventure. "Living on purpose" is a relationship that needs nurture and commitment just like any other relationship of love. And I am committed to and in love with my purpose!
Once again, quality over quantity. One of the young ladies who came to my workshop lit up ecstatically about what she really wanted to create in her business, home, and love-life. She was already a powerful young woman, and now she saw that the only thing holding her back was lack of faith in herself and God.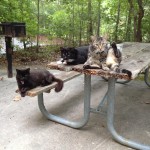 This was a beautiful conclusion to a successful first trip. No body died. We never had to sleep in a random parking lot. My cats were safe. And we always ate like goddesses.
We even had a park ranger pull up to our site and say, "Ma'am, out of all these years I've been patrolling these parks, I have never seen anyone travel with three cats like you do! I can't believe they just hang around and don't run away."
This was just another reminder that by taking a leap of faith and simply going on my tour was powerful and not to be taken for granted.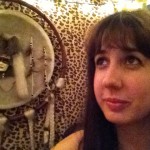 There was a part of me that truly loved the choppiness of not knowing what the hell I was doing and doing it anyway out on the road. I had learned so much about what not to do next time, and laughed at myself for stubbornly learning everything the hard way. An angel could have come down from Heaven with a book on what to do and I would have said, "Screw your book, I will find out myself." That attitude has gotten me in a lot of trouble, but has also gotten me farther than trusting anyone else's wisdom above my own experience.
On our way home, we counted just enough money for gas and even had enough to stop and fill up my LP tank for cooking. We were a few exits away from our final destination when I noticed my gas tank was empty.
"I don't understand," I said, "we just stopped for gas a little while ago. Do you think there is something wrong with my gas gauge?"
"That is weird. Something must be wrong with the gauge. I think we will get home, don't worry about it," Janna said.
"I don't know, maybe we should stop. I have about $30 left."
"I promise we are fine, let's just go." Janna said and I drove right past an exit that had about six gas stations visible from the interstate. My head did one of those Hollywood-movie slow turns as I dramatically said inside to myself, "Noooooooooo…." Sure enough, my pedal stopped moving forward. We were out of gas.
"Crap, I think we are really out of gas. I'm going to pull over at this rest stop." I literally rolled into the exit and came to a stop in a parking space. Janna and I got out and started asking people for help.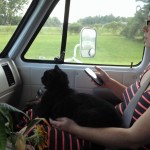 "Jai Maa, I found someone who will help us!" Janna said as she led me to two fellows who were also traveling in an RV.
"I don't have any cash on me. Can I write you a check?"
"No ma'am," one of them said politely, "we have been in the exact same boat and nobody helped us. We were stranded for hours! I'm just glad that we can help you right now."
"Thank you so much, we are truly grateful," I said as they poured their extra gas into our tank. "Can I give you my book?"
"Sure, what's it about?" The other fellow asked and we engaged in a ten minute conversation about trusting ourselves and "playing big." These two travelers were on the verge of giving up on traveling because they felt discouraged by their obstacles. They were actually on their way back home to sell their RV and toss in the towel to their dream. I ministered to them for a few minutes and encouraged them to never give up, especially since their miracle must be soon approaching. They appreciated our conversation and left in high spirits with a renewed hope for their traveling dream. Janna and I were back on the road and giggled about how wild God is in turning our clumsiness into a Divine meeting.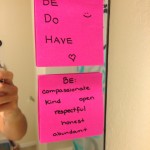 As we neared our final destination in High Springs, Florida, I could not remember where the gate was for us to drive Baby Bella down a larger, safer driveway that had been opened for us earlier that evening. It was late and I could not get a hold of my land-lady, and once again, we were almost out of gas!
"I don't know what to do, Janna, do you think we should try and see if we can slither this thing down that narrow driveway?"
"Yes, let's just do it! I totally trust that we will make it!" Janna is an awesome cheerleader.
We road down the tiny-itsy-bitsy-narrow road with our fingers and toes crossed and made it! After plugging in the hoses and letting the cats out to a familiar property, we jumped into Janna's car (which was out of gas) to go get my car (which was also out of gas) and then head to a friend's who was making us a gourmet welcome home dinner….with wine, of course.

This completes the last blog to the first book tour. Blogs on current tour will be coming soon!