I've heard of Asheville, but where's Durham?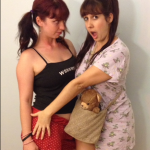 I felt like I had turned into a pumpkin by the time I pulled into Starr and Arianna's home in Durham, North Carolina. After a long day of seeing a client in Tennessee, then packing up and moving to Asheville, then unpacking and setting up the Goddessmobile, I drove another three and a half hours to take Starr back her car on the other side of the state. I was exhausted.
Starr and Arianna are sisters from Gainesville who moved to the most random city in North Carolina to "get away from it all." I have known Starr since she was in high school and Arianna since elementary school. The smiles on their faces along with an after-midnight snack made me feel like I could collapse into the arms of caring friends. I was relieved to see them.
I was feeling worn down by my trip.
The effort to keep up a happy face to hide my experience of survival-mode was exhausting. I felt like a toddler in a raw learning curve, enduring lessons the hard way and painfully experiencing what I would do differently next time.
Focus on the good.
Just have fun.
Don't worry, be happy.
Stay positive.
…were records I repeated in my head like a spiritual fru-fru to ignore the fact that I was leaking a tremendous amount of energy. It was easy to remain at my current level of consciousness. All I had to do was turn my pain into a party and check out from what I truly wanted…
to expand…
to prosper…
to thrive…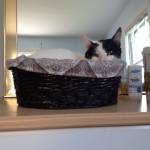 Positive affirmations and lots of wine helped numb the feeling that I was failing miserably. I shared stories of the trials, tribulations, hardships, fears, and endless magical occurrences with my sister friends before heading to bed.
The following day, we had a workshop in their living room with neighbors and friends. With a Christian sitting next to an Atheist, I knew Spirit was giving me a new test. My brain worked at the speed of light as I said the same thing two different ways like a Swahili on crack.
I loved it.
Truth is universal and everyone can hear it, no matter what their beliefs may be.
My light bulbs were going off like rocket ships while I communicated how scientific co-creating with God (or Universe, ethers, Love, etc.) actually is. And yet, its magical gap of Faith is unexplainably beautiful. I felt stretched and fired up by the challenge to convey Truth in a way all could understand. Finding words to not offend a die-hard Christian, yet connect with and include the scientific mind of an Atheist grew me as a facilitator.
Feeling back in my groove again, I danced around the living room, high as a kite on bliss when the workshop was complete.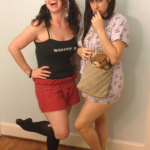 "We have a surprise for you, Jai Maa," Starr giggled.
"We're taking you somewhere fun tonight. No more stressing out. We're going dancing!" Arianna said.
"Oh, umm…that's nice…okay, and maybe I will stay home and rest since I usually like to regroup after a workshop," I said wanting to pull my head in my turtle shell.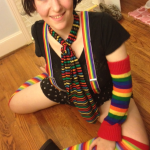 Though I am a night owl, I really don't care for going out in the 'night life'. I am an introverted empath and my energy field can get drained and scattered when I am out in public during party hours.
"But it's a pajama contest party, you have to come!" Starr said, hearing the oh-crap-I-wanna-run in my voice.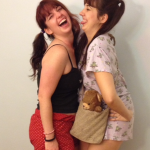 "Yeah, we're going to dress up and it will be fun! It won't be the same without you!" chimed in Arianna.
"Okay, but if I start to get drained, I want to come back here," and they both lit up like Christmas trees from my surrender.
Playing dress up and creating a photo shoot in the living room with my two crazy friends brought out the little girl in me again. I learned that the pajama party contest was at an African American gay club, which made it that much more interesting. We stuck out like sore thumbs being the only white and heterosexual people in the entire club.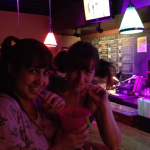 But we didn't care, we won the contest!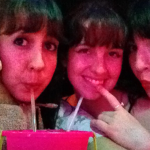 …that's because we were the only dumb-asses who actually dressed up in pajamas! Arianna got first place, Starr got second, and I got third with my cute little pick-tails and teddy bear popping out of my purse. We danced the entire evening and closed down the club. Everyone there loved us.
Outside The Bar, there was a sandwich van and we chowed down on hot subs with melted cheese. We even bought a sub for a drug addict who tried her best to hustle us for money, but only succeeded in a meal. You can't always get what you want. But you always get what you need.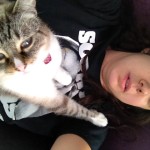 I woke up the next day to all the household pets snuggling me in the bed. I'm positive that the purring vibrations of four cats and a licking pink tongue of a happy dog healed my hangover. I forced myself to get up out of my pool of bliss in order to do laundry. Janna would be here to pick me up soon and there wasn't much time to get ready. I looked everywhere for my laundry, but only found its empty bag. Outside strung along the fence and hanging from a tree was my laundry drying in the warm sun. Starr had washed my clothes while I was asleep and Arianna cooked me a nice meal as I waited for Janna and her friend to come pick me up.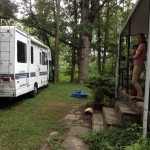 Back in Asheville, I noticed my camper was leaking all over the place. After praying like hell, turning off the hose, and drying up the floors with a dozen towels, I was relieved to discover that it was the outdoor pressure hose that was causing the leak and not something that was wrong with my camper. Thank God.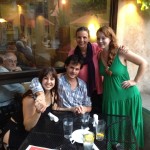 My friends, Marie from Florida and her brother, Olivier from France, had arrived to Asheville to meet me on my book tour. We went downtown and had a to-die-for-dinner at a classy vegetarian restaurant before wandering through the city to find the drum circle.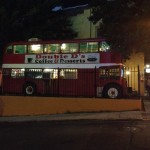 The streets were full of musicians, artists, and a variety of entertainers, and we stopped to hear a woman sing her heart out to spiritual hymns. The drum circle at the downtown square was jammed packed with mountain hippies and travelers. People danced with glowing hula hoops and a couple of folks let us beat their African drums to contribute to the rhythms of circle. To top off the evening, we had coffee and dessert in a two story bus! Asheville is a fun, eclectic place of art, spirituality, and healing energies. I will definitely visit again.
As I was preparing for bed, Olivier knocked on my camper door in his pajamas with guitar in hand.
"Can I sing for you a lullaby?" he said in his broken-English French accent.
"Sure, but I can't hang out too long, I need rest for my workshop tomorrow," I said as I let him in.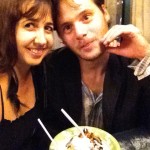 I met Olivier on Facebook years ago and he would write me long letters that were challenging to understand, but strengthened my empathic abilities. When I let go of trying to understand from my mind, I could hear and feel what he was communicating. Now I speak "Olivier" and we have been friends ever since.
About two years ago, Olivier came from France to visit his sister in Alachua, Florida and meet me in person. He stayed at my home for a few days and I introduced him to a handful of my closest friends. Now, he was back for another visit and asked his sister if she would drive him to wherever I was to visit me. Marie, being one of my favorite people in the world, generously created a road trip for her brother to come see me on my first book tour. I felt grateful for their presence and support.
The following day, Marie, Olivier, and I got an early start to visit The Light Center in Black Mountain, NC, before my workshop. We drove up the beautiful winding roads to this healing center resting on the mountain.
Inside The Light Center, was a dome meditation room with lights and healing sounds to align your chakras. It was like being in a slow moving rainbow. Each color invoked a different emotional and psychological response intended for healing. Before we left, Marie gave the office manager a copy of Dr. David Wolf's book, Relationships That Work, and I gave them a copy of my book, Break Through Your Threshold, to add to their library.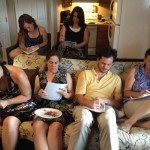 When we arrived at my next living room workshop, I jumped out of the car and hugged the neck of a woman I hadn't seen in over a decade. Marnie was a mutual friend of one of my best friends in Tampa, Florida, who I call Ahimsa Moon.
While I was already in route and wanting to visit Asheville, I had trouble booking my workshop at any of the healing centers, churches, or book stores. I even had my friend, Mia from Gainesville, look up and call as many places she could find, but everyone wanted at least a month's notice. I did not have a month, but I did have clear intention to share Break Through Your Threshold in Asheville. I had the intuitive idea to post on Facebook: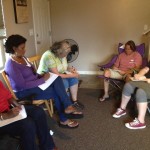 Does anyone know anyone in Asheville who would be open to having me teach my workshop in their living room?
…and then I watched Spirit do the rest. People were forwarding my post to connections in Asheville and finally, I was put in contact with Marnie. I had only met her a few times, but she seemed happy to have me!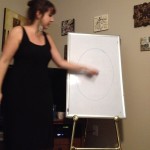 So here we were, in her charming two story cabin home with a beautiful view. She was celebrating her birthday and invited a handful of her powerful women friends come out for a pot-luck and experience personal growth for her birthday. Janna arrived with the owner of our bed-and-breakfast and we got down to business.
I felt privileged to be serving a room of such amazing movers-and-shakers. This was a group of women who knew each other well and were vulnerably disclosing their greatest dreams. I watched them support and challenge each other to break through their fears and create what they wanted with no compromise.
"Note to self," I said quietly in my mind, "do more living room workshops. This is a magical way for communities to hold each other accountable and create what they really want."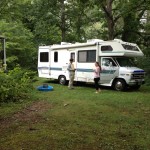 Our Asheville trip was short, but a success! Marie left to get an early start to our next destination and Olivier stayed behind to experience his first ride in a R.V. We packed up the Goddessmobile, hugged our wonderful bed-and-breakfast host, and managed to back down a steep, narrow gravel driveway without falling off a cliff.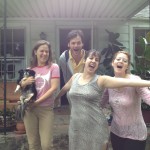 I barely made it a few yards before I heard an unusual sound coming from my tires. It sounded like a stick that was stuck in a spoke, so I pulled over. There was no stick, but one of my hubcaps was missing! We called our host and she found it in her yard and brought it to us. Once we had it popped back on, we were off to Greenville, South Carolina. Missing hubcaps don't make the kind of sound I heard. I truly believe my angels were following me down the road with a stick until I pulled over.
They never left my side.