The Light Center
<BANG! BANG! BANG!>
My ear plugs couldn't drown out the crashing noises coming from outside my camper. I had driven all night down bumpy gravel roads in between endless corn fields to find The Light Center. Still exhausted, I made myself some coffee and went outside to meet this new community who woke me up with their laughter and peculiar banging sounds.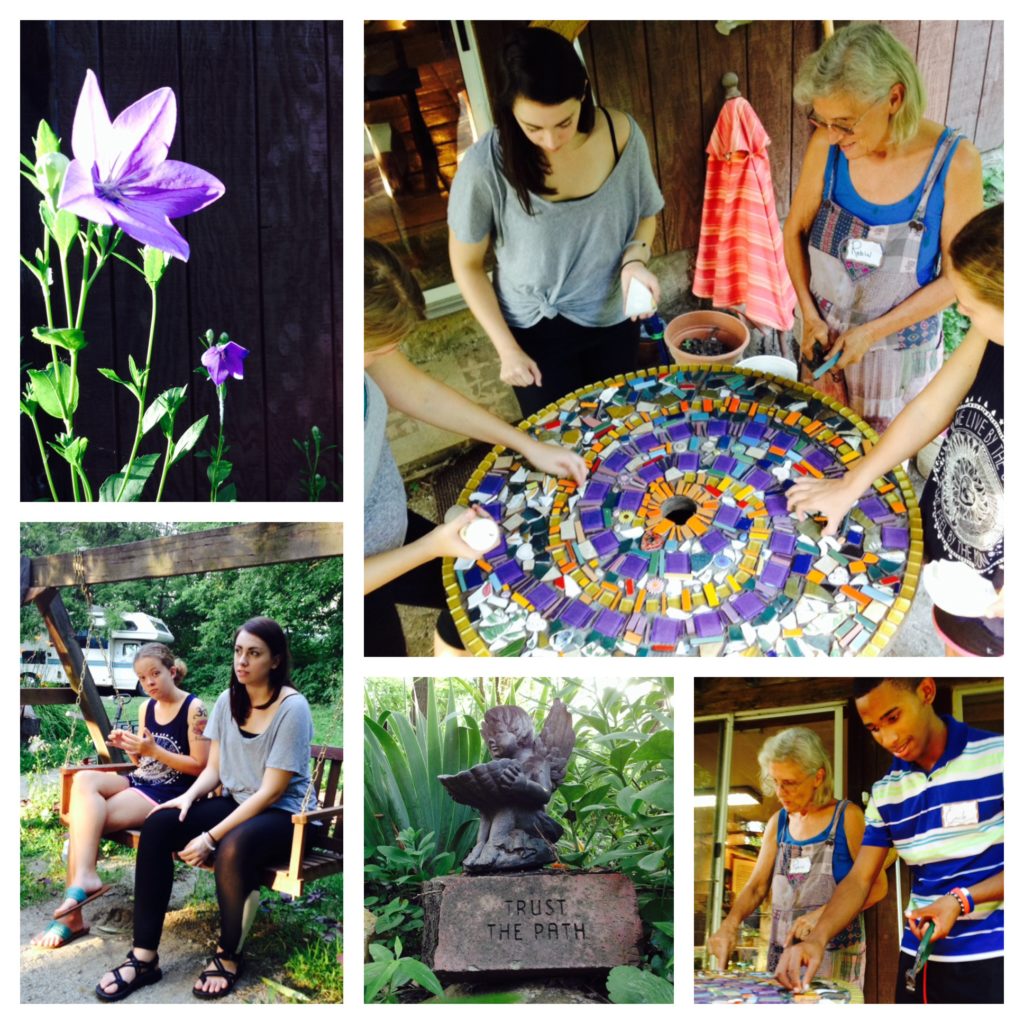 Dressed in cabbage patch overalls and smashing old pottery with a hammer, Robin Goff, the Founder of The Light Center (www.lightcenter.info), was teaching a handful of young people from IYOU (International Youth of Unity) how to create a mosaic table. They were breaking old dishes and colored glass when I approached the messy masterpiece-in-progress. After exploring the gardens full of flowers, fairies, gnomes, and angels, I joined the group and contributed trinkets from my camper's alter to the mosaic table.
Every day was packed with community potlucks and fun consciousness-shifting activities. Admire, Nosisa, and Thelene from South Africa, along with Macy and Daryl from Missouri, and Ginger, Chloe, Martin, Kelly, and Maura from Texas had all auspiciously gathered at The Light Center.
And then there was me…the random RV touring author chick who drove all the way from Florida with three cats and a heart full of curiosity and adventure. My cat-angels were introduced to the dogs of The Light Center, and Nakomis was chased up a tree while screaming like a damsel in distress.
Within the first few days, I taught Break Through Your Threshold, Hypnosis and the Subconscious Mind, and hosted a ThirdEyeSpoken (www.thirdeyespoken.com) poetry gathering for the guests in the barn. We played a game where the audience threw words at me, and I free-styled them into spoken word poetry on the spot. We laughed so hard our cheeks hurt.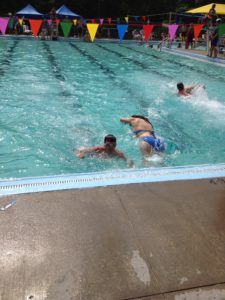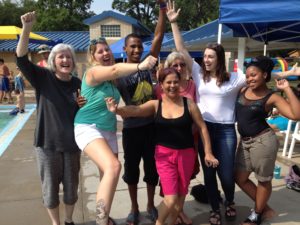 For 4th of July, I watched the teens from South Africa beam with joy at their first experience of swimming in a concrete swimming pool. The Baldwin City Community Pool sponsored games, dancing, food, and relay races for the holiday weekend. A relay team was short one person, so I jumped in the race, since I used to competitively swim and dive in high school. I hadn't moved my body that fast across a pool in over twenty years and about croaked! Admire showed off his wild flips and cannon balls on the high dive, so I whipped out a few diving tricks of my own. Yep, I was that rusty awkward adult trying to pull of champion dives, and succeeding at belly flops.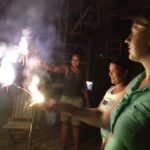 Back at The Light Center, I gave out fireworks, and we blew bottle rockets from our hands and played with sparklers around the fire. This was another first experience for the teens of South Africa. Seeing them light up with enthusiasm made me aware of how often I take the small things (like the convenience of fireworks) for granted. We piled into cars on Sunday, and I taught Break Through Your Threshold after the morning service at Unity Village in Lee Summit, Missouri. The participants loved my threshold workshop so much, they asked me to come back.


I was invited to share two ThirdEyeSpoken poetry workshops with the teens of the Annual IYOU Camp that week.  After checking in as a guest teacher, I sat in the lobby of Unity Village Chapel with a peace and stillness I have never experienced before.
"I feel so much peace right now," I said out loud to the Divine, "I kinda want a little drama to shake things up. Give me a reason to invoke this peace that feels so freely given."
Within minutes, the alarm went off and everyone started running to the church basement.
"Go downstairs to the basement immediately! This is a tornado alert!" yelled the staff who were herding hundreds of giggling teens.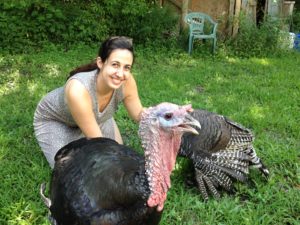 "Bahahahaha! Okay God, now that's what I'm talking about!" And I ran downstairs with a big cheesy grin on my face brimming with excitement. I knew nothing about Kansas and Missouri except for that Dorothy, Todo, cornfields, and tornados were supposed to be here. I must admit, driving across country I spent a lot of time daydreaming about the exciting possibility that I might actually get to see a tornado. I'm from Florida. We only get boring hurricanes.
But the Divine got the last laugh. The basement had no windows, so even if there was a tornado close by, I wouldn't be able to see it. For a moment, I felt jipped by my own manifestation, but then enchantment took place in the basement. Teens from all over the world began singing songs of love and unity to peacefully pass the time. I was in awe.
For two days, I helped those who came to my spoken word poetry workshops create a team piece, which they then shared at their "Spirit Share" talent show.
One of the poetry teens fell ill, so I jumped in and took over their part. The Divine had me on the tip of my toes, anticipating excitement at every twist and turn.

After camp and back at The Light Center, Maura taught us how to make zintangle art. I created a piece that represented my ideal relationship: I am the colorful, creative vitality that adds spice to the world, and he, whoever he may be, is a vast, solid structure of a love and intelligence capable of holding my energy. On another evening, I whipped out my jewelry-making kit so that everyone could make necklaces with fancy gemstones.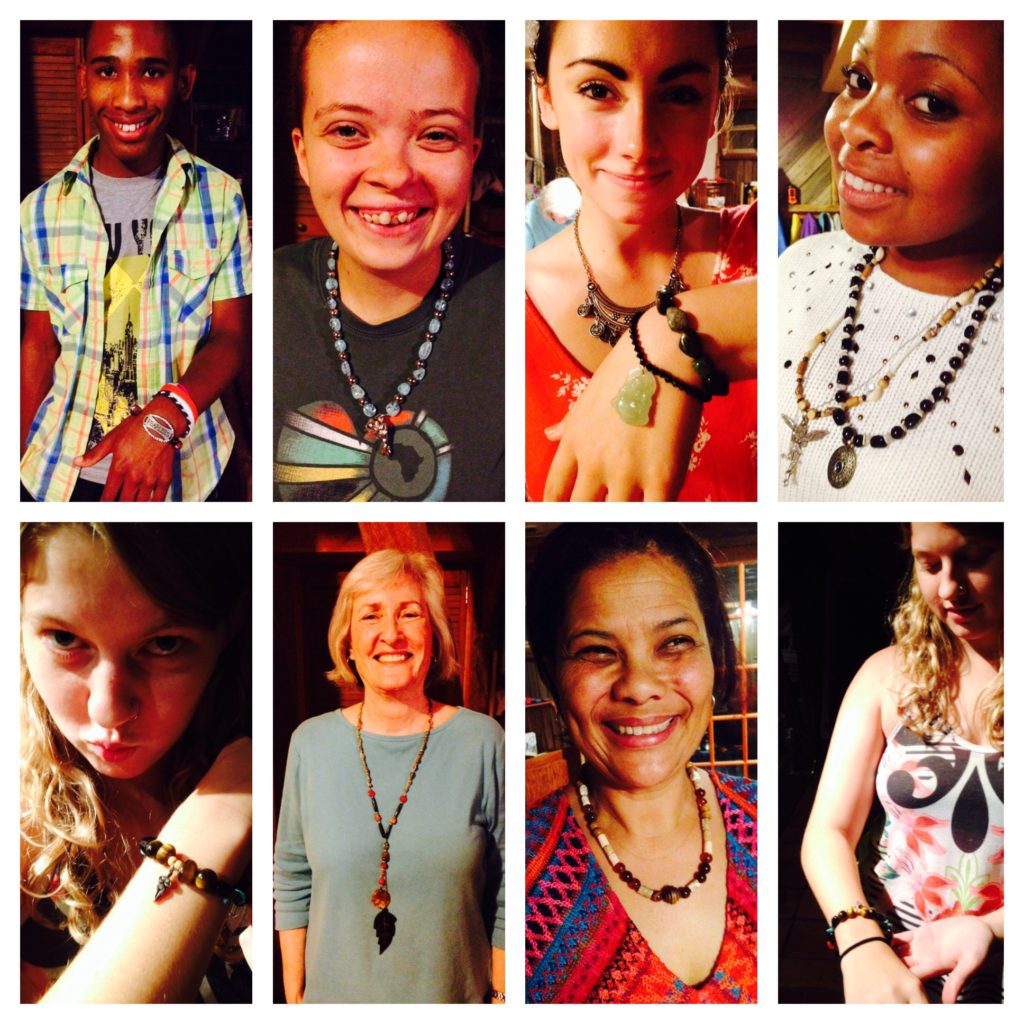 Before the youth and South African guests left, I asked Allaudin, a Dances of Universal Peace leader who I hadn't seen in years, if he would host a dance at the barn. Friends from all over Kansas and Missouri came for the pot-luck, and we danced for world peace all evening.

My gifts were being well received, and Unity Village asked me back multiple times to share Break Through Your Threshold. My stories and corny jokes never got old to those who returned over and over again. In fact, I received feedback that these paradigms were beginning to stick and inspire people into purposeful action. Like a domino effect, I was invited to various cities to host my workshops. I was in what I describe as the vacuum effect: I was no longer seeking success because success was seeking me.
One of my "markers" for prosperity success is the freedom to go grocery shopping at a health food store and buy all the organic food I want without looking at the price tag. I was a buy-one-get-one-free kinda gal who loved sales and would settle for generic brands if it meant I could save a dime or two. And then it happened…the scales of my prosperity tipped and I was flowing in so much abundance, I wondered where it had been all my life!
There were three things I did consistently that caused my scales to "tip."
One: I gave everything I wanted to give from a spirit of "I am so grateful I have something to give!"
Two: I didn't tell anyone how broke I was. There was no need to program my new community with the false idea that I was poor.
Three: Instead of freaking out over my bank account dwindling to less than a dollar from time to time, I would praise God that I had just enough money to buy what I wanted.
One example is when one of the assistants of my Unity Village workshops named Vicki invited me over for dinner. I said I wanted to buy us dessert, and though I only had about eight dollars to my name, I didn't tell her that. I felt so lucky that I had just enough to get us a Boston Crème Pie, and after I paid for it, I had three cents left in my bank account. I squealed in gratitude, "Thank you God! You are so intelligent! You made sure I would have just enough money for this moment! Why do you love me so much?! You rock!"
That evening, we played a few rounds of chess, and after being whopped a couple of times, I won my first chess game ever. I may have had only three cents to my name, but I felt like a multi-millionaire.
And that's when it happened: the flood gates of money abundance poured down on me like Niagara Falls! I got caught up on my debts, I took colleagues out for dinner and paid the bill like a boss, I treated my friends to full body massages at a geisha spa, I bought myself a new wardrobe of goddess dresses, and I never looked at a price tag while organic grocery shopping again…I was in the money!!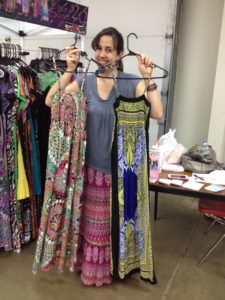 The results of transformation were endless. An unusual thing I noticed about being high-on-Spirit was that I no longer felt as attracted to alcohol. I felt too good being clear and manifesting magic, that I didn't want anything (even my favorite drink, the blood of Christ) to bring me down.
Prosperity took many forms. God sent me an abundance of amazing new friends. MK Muller became one of my earth angels and introduced my work to many of her clients and colleagues. MK is the founder of "8 to Great" (www.8togreat.com) and she is responsible for getting leading-edge information like the Law of Attraction and Forgiveness work into the Kansas public school systems.
Bonita is another amazing supporter of my work. She missed one of my breathwork workshops, and asked if I would facilitate another one if she organized it. In less than twenty-four hours, she had a house full of participants ready to do cathartic breathing. Abracadabra. Just like that.
Joni had a vision of taking her rental home and turning it into a healing center for years. After attending the Break Through Your Threshold experience, she connected with the courage to bring her vision into fruition. Within two months, she opened The Lavender House (www.lavenderhouse.org), and I began hosting workshops there!
Adam, Molly, Jim, Kelly, and Tom would come for breathwork and other social gatherings at The Light Center, and became my Kansas/Missouri peeps. I also spent quality time and cooked gourmet meals with Devin and John who were "wwoofers" (World Wide Organization of Organic Farmers) at The Light Center. One of my friends from Gainesville, Andre, happened to be traveling through Kansas and stopped by with his friend from Colorado, Lora, for one of my breathwork workshops. This place was like a magical hub of the United States.
Tim and Peggy came to many of my threshold workshops and weekend retreats, and Linda Rae became my personal cheerleader (she's actually a cheerleading coach). Valerie also became a close confidant. I made so many wonderful new connections, I didn't want to leave. I felt like I had a new tribe.
And then there is Robin. She is truly one of the most magnificent people I have ever met. She is the creator of this Light Center that attracts traveling light workers, healers, workshop facilitators, young rising leaders, wwoofers, authors, ministers, and leading-edge movers and shakers from far and wide to gather and share their gifts of Light with the world. I experience Robin as deeply loving, gentle, generous, wise, grounded, humble, and gifted, and she is also an incredible healer and light worker. Robin has treated me like family since the moment I arrived. She allows me to borrow her car to get back and forth to my workshops, and she has connected me with many people throughout Kansas and Missouri to promote my work. It is the Robin Goff's of the world that are impacting humanity with the space holding of Heaven on Earth.
I had only planned to stay here five weeks, but it's been much longer than that. I try to leave, but can't. What is the rush? I feel like I am home.